1: Bosses are shown as trash mob.
Boss setup is usually included by default, but when a new raid comes up, it can take time for me to see them.
(you can speed up the process by sending me a log, in english or french, preferably)
However, this can be fixed in the unit option:
open the context menu over the "boss" (right click). this works in replay view, or in the timeline view.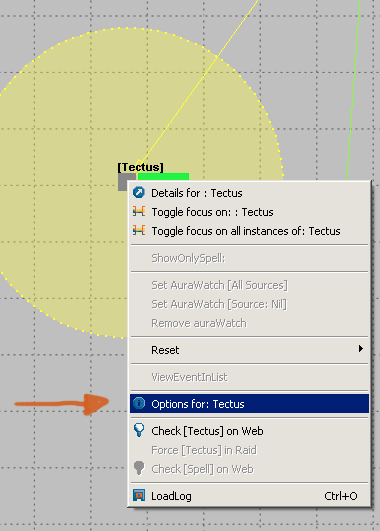 If it's *the* boss then simply check the "
boss
" option. "
Check for death
" must be checked to, so WCR will know that the event will end once that unit is dead.
If the unit uses a specific ressource (like Tectus use "energy bar", choose the right one in the combolist.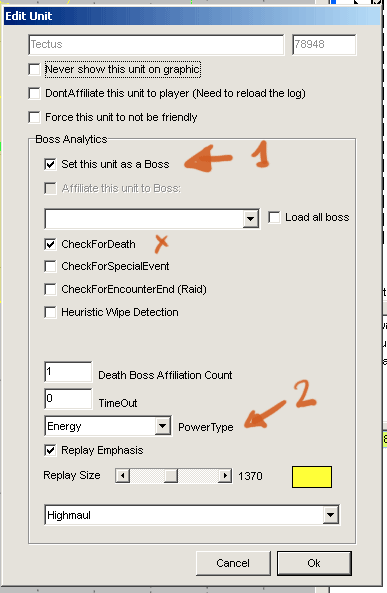 Sometimes, the "boss" is not a single unit but a bunch of npc.
if it's the case, choose all relevant unit then "
affiliate
" them to the boss: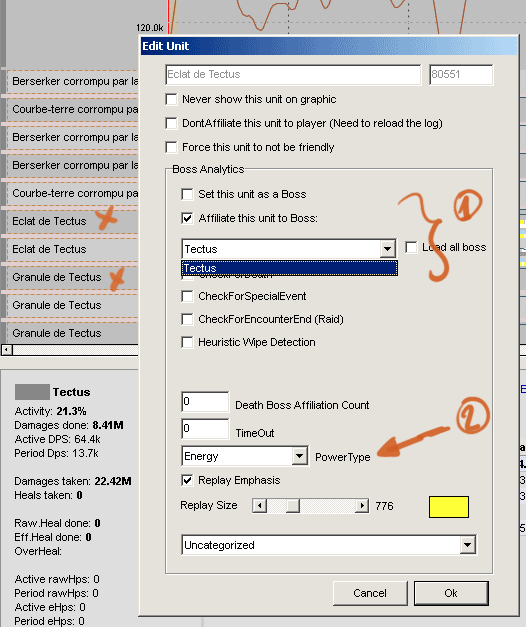 Most of the time only the "boss" must die to end the event. But, if there are more than one unit, that can die in a different order, then you must check the "check for death" for all relevant units, then add the "death count" in the main boss option (that count must include the main boss death, if relevant).
By setting the Powertype (2), the NPC will show the relevant power type in detailled view/replay
2: how to highlight an event in replay
Find the spell you want to highlight, (if it's damage, it's easy to find it in the "damage taken" tab in unit stat view) then open its context menu (right click).
But the spell can also be found in the spell list (3rd tab in the right panel).
Be sure you choose the spell that can trigger the right event. Sometimes, spells that can trigger both buff and damages can share the same name but are not actually the same spell.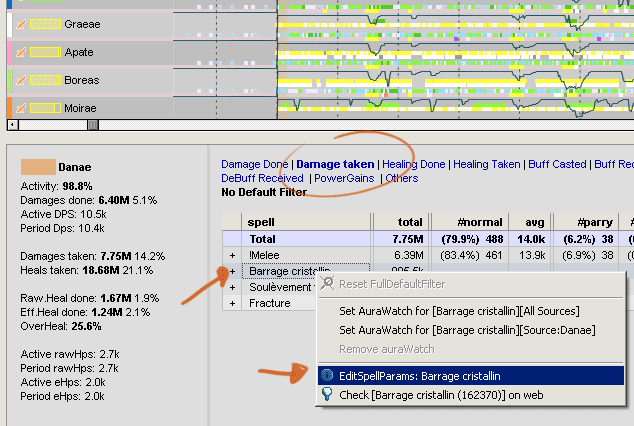 Then click on the spell highlight option, check the relevant event type (damage, heal etc... for aura, you can set a minimum amout of stack)
then choose a color. Done!